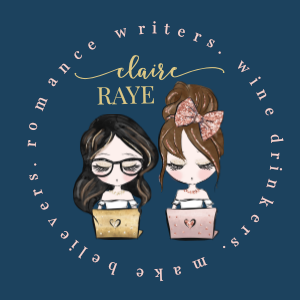 Claire Raye is actually the pen name for two best friends who met through their mutual love of reading. After bonding over books and writing (and wine and cheese), Claire and Raye decided to take the plunge and see if they could write a book together. And they've never looked back! In addition to their shared love of food, books and the Fast & Furious franchise, the writing duo that is Claire Raye like to write about strong sassy women who aren't afraid to say what's on their mind and the overprotective men who fall in love with them. 
Both halves of Claire Raye are married and both of their husbands have a cheeky smart arse side that gets plenty of airtime in their books. From their smart mouths to their witty one-liners, there's plenty of material to use for all those alpha males Claire and Raye love to write about.
Claire and Raye are constantly chatting new ideas, new plots and of course, their next couple! Their romance books cover a range of genres including romantic comedy, new adult romance, contemporary romance and erotic romantic suspense. They love to hear from their readers and are always up for a chat about their books. Be sure to sign up for the Claire Raye newsletter too, there's so much exciting stuff to share with you all!