Hate Me (Alex & Delaney #1)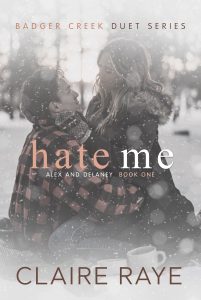 The last place Delaney Hayes thought she would find herself is Badger Creek. It's the place she left with dreams of college scholarships and a future as a professional skier. But less than a year later, she's back with her tail between her legs, embarrassed and bitter, working as a ski instructor.
And then there's Alex Cunningham. A guy most girls would dream of working with. Arrogant and gorgeous with a sinful smile to match. Determined to make Delaney's life miserable, he seems to turn up everywhere she is and her patience for him is wearing thin.
However, fate has other plans and when tragedy strikes, they're forced together in a way they never expected.
Hate Me Not (Alex & Delaney #2)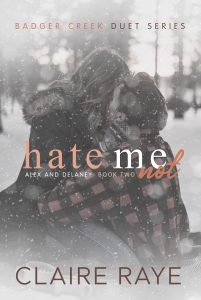 After surviving an avalanche, Delaney Hayes thought the worst of it was over. Battered and bloody, she finds herself in the middle of nowhere. Terrified for her life, she has no idea that the one person she can't stand will be the one to save her.
And then there's Alex Cunningham. Clinging to Delaney as the avalanche struck, he's determined to keep her safe even if it means surviving in the remote wilderness. His first and only thought is to find shelter even if the thought of being trapped with her is difficult to take.
But as the days turn into weeks, these two enemies must come to terms with their situation, finding comfort in each other when they need it most.
Release Me (Ethan & Zoey #1)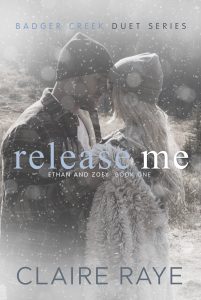 Finding a boyfriend is nearly impossible for Zoey Holden. As ski village royalty and heir to the Holden Winter Gear fortune, most guys are only after one thing and it's not her heart. Reluctant to let anyone get too close, she throws herself into her new job at Badger Creek.
And then there's Ethan Morrison. The gorgeous but reclusive owner of the Badger Creek Lodge, he keeps women at bay, worried they're only after his money and the lifestyle that it could afford them. That is until he meets Zoey, the newest employee he's been given to mentor.
Despite knowing they shouldn't, neither can't resist giving in to their obvious attraction to each other. But when their secret relationship is revealed, it puts both of their lives at risk.
Release Me Not (Ethan & Zoey #2)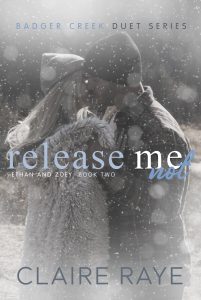 Offical blurb coming soon!