"A Cocky Hero Club Novel"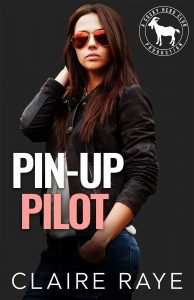 Alexa Purdy has sworn off men and he's her worst nightmare.
Arrogant and flirtatious, and now International Airlines' newest pilot, Jake Campbell has a panty-dropping smile and a body to match. But he's no match for Alexa's cold heart.
Plagued by a bad reputation and a bitter divorce, Alexa is determined to make a name for herself outside of the bedroom. As International Airlines' only female pilot, she's had to work twice as hard and she won't let someone like Jake bring her down.
But she's surprised to find he's nothing like she expected him to be. Even more surprising is her growing attraction to him and his obvious attraction to her—an attraction that causes her to question whether swearing off men is such a good idea after all.
But when Jake's past resurfaces, she realizes getting close to him may be her biggest mistake of all.
"If you loved Playboy Pilot by NYT Bestselling Authors Penelope Ward & Vi Keeland, you'll want to check out Pin-Up Pilot"