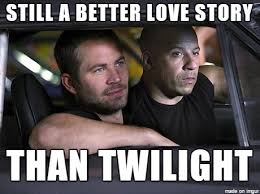 ~Claire
Ok Raye, I think it's time we explained to our readers the origins of our mutual F&F obsession. And while yes, most people would look at us and wonder how in the actual fuck two gals could be into a movie franchise that revolves around fast cars, nitrous deployment, cheesy lines and insanely inplausible stunts is possible, we are here to tell you, it is very possible. Am I right Raye?
~Raye
I have to stop you Claire, because are there really people who don't love the franchise? Like how could you not? Greatest scene in any movie ever was watching the crew take down an Antonov. Epic shit right there. It's also the saddest ever too because Gisele sacrifices herself to save Han. These two were #relationshipgoals from the moment they appeared on screen together in Fast Five (personally my favorite of the franchise). But that brings me to my next point…that Gisele is in fact not dead and will be back for the now COVID-delayed F9. The trailer had us shook when Han reappeared and this franchise is all about the over the top storylines. Gisele 4 Evah. Thoughts, Claire?
~Claire
Ugh #relationshipgoals – this whole franchise is basically a shout out to #relationshipgoals really. But yeah, like you, I am also thinking that Gisele is coming back. I mean the trailer literally told us everything about the movie #spoileralert – Dom has a half brother, Han is still alive…they have to surprise us with something and Gisele being alive and her and Han having been secretly hiding out somewhere having mini Gisele and Han babies is perfect! Well, that or just chilling somewhere not being dead would work, too. I just wish they could find a way to bring Brian back. I know, I know, literally impossible with our beloved Paul Walker being gone, but shit, I miss that guy. He WAS this F&F franchise, right Raye? Do you remember the day we lost him?
~Raye
Oh that day was devastating and my hubs only added to the extreme sadness with his mockery. It was over Thanksgiving and since we hadn't eaten enough I had sent him to pick up takeout. I was relaxing on the couch when I got the panicked message from you, Claire. I didn't believe it, I Googled it and was hit with the worst news ever. I shed a few tears and waited for hubs to get home so I could share my grief. But you know what he said when I told him?? He said, "Well, he does live his life a quarter mile at a time." A joke…he makes a joke.
~Claire
I couldn't believe it. Could not believe he could joke about something this devastating. Although to be fair, we did have to give him props for his classic F&F wordplay, even if it was purely said to mock us and our love of this franchise. I also remember on that day us swearing that Fast 7 would be our last F&F movie because we couldn't possibly watch another of these films without him in it. I mean the ending of Fast 7 was bad enough with that photoshopped Dom-Brian car scene set to the tear-jerking sounds of "See You Again", but to watch an entire movie without Paul Walker? Hell no? Obviously that all changed the second Fast 8 came out, followed by Hobbs & Shaw and now our COVID delayed Fast 9. Are we ever going to say goodbye?
~Raye
I don't think we'll ever give up on the series. If we made it through 2 Fast 2 Furious and Tokyo Drift, it's clear we're lifers. But this convo has gone on a little too long, so we'll end it saying, yep we love this franchise. So we ask, hey reader, are you a lover of the series? What's your favorite movie of the franchise?